Jeff Midkiff: Mandolin Concerto "From the Blue Ridge"
"Wow, really terrific— damned impressive!! Gorgeous middle movement. Bravo Jeff,
a real accomplishment both pragmatically
and artistically."
David Royko, Chicago Tribune
Jeff Midkiff's concerto for mandolin and orchestra, "From the Blue Ridge," was commissioned by Music Director David Stewart Wiley and the Roanoke Symphony Orchestra. The Concerto has subsequently been performed with the Rochester Philharmonic, Shreveport Symphony, Williamsburg Symphony, Northwest Florida Symphony, Boulder Philharmonic, Symphony of Southeast Texas, Champaign-Urbana Symphony, Jacksonville Symphony, Knoxville Symphony, and the
South Arkansas Symphony
. Upcoming performances are scheduled with
the Carpe Diem String Quartet (August, 2017) and Cal Poly Symphony (December, 2017). Jeff performed the Concerto with
the Boulder Philharmonic (March 2017) as part of the SHIFT Festival at the Kennedy Center.
"...toe-tapping...spiritual...colorfully scored...fun..."
—Michael Butterman, Rochester Philharmonic Orchestra conductor
The piece directly reflects Midkiff's roots in the Blue Ridge Mountains
and his fondness for the bluegrass music tradition, with a touch of swing and
jazz in the mix. Not that this suggests "Blue Ridge" is all fast mandolin pickin' because it isn't. In fact, it's a work that cleverly blends a sophisticated
orchestral foundation with mandolin playing suitable for classically-oriented
lines as well as those more down-home. The final movement is full of
foot-stomping, toe-tapping rhythms and was just great fun to hear.
—John Shulson, Virginia Gazette, January 19, 2013
Audio, Notes, Articles and Links
Audio samples and Program notes for Mandolin Concerto "From the Blue Ridge."
See articles and reviews about the Mandolin Concerto.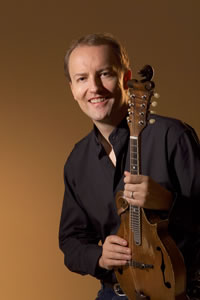 Partners in Time, Jeff's debut solo recording
With its deft, thoughtful blend of classical, bluegrass, jazz and swing influences, Partners In Time is an outstanding debut by a musician who feels comfortable in more than one setting—musically and personally.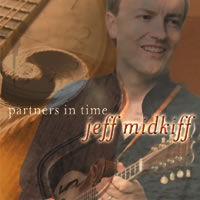 —Jon Weisberger